■2nd World Enemy Available!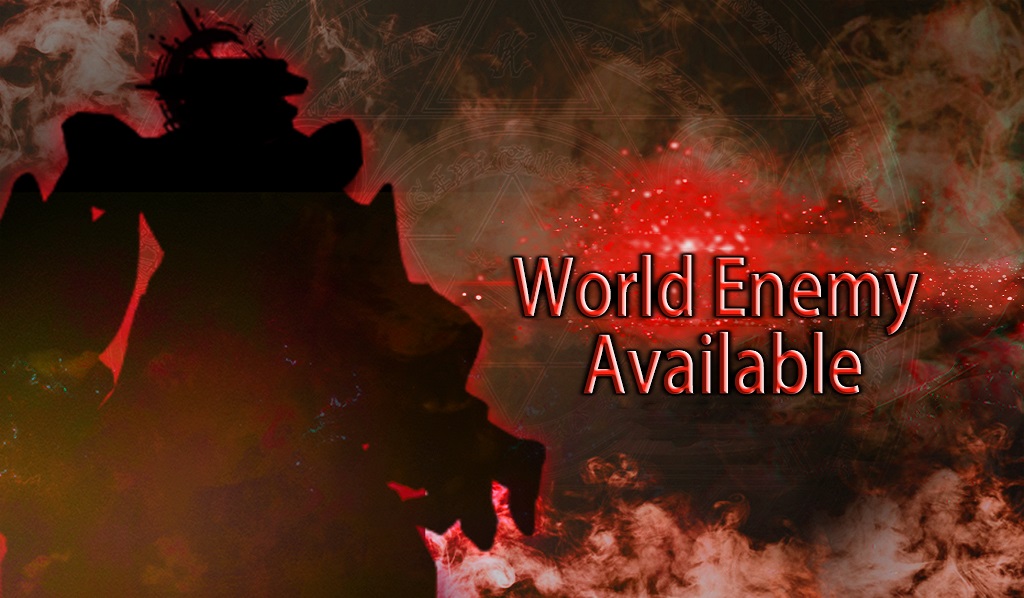 Available:2020/29/04 ~ 2021/05/05 23:59

 World Enemy is a large scale raid that calculates player's accumulated damage as Individual Pt which in turn gives out rewards. Players will be ranked based on Accumulated Pt and Maximum Damage Pt.

World Enemy Flame Golem is weak to water.
 ※Event will start after 1/4 Maintenance, items needed for World Enemy will be available in Event Missions.
 ※Does not include AP spent before the event
 ※WE AP saved cannot be used in the next World Enemy Event.




■About 「Pt Trait」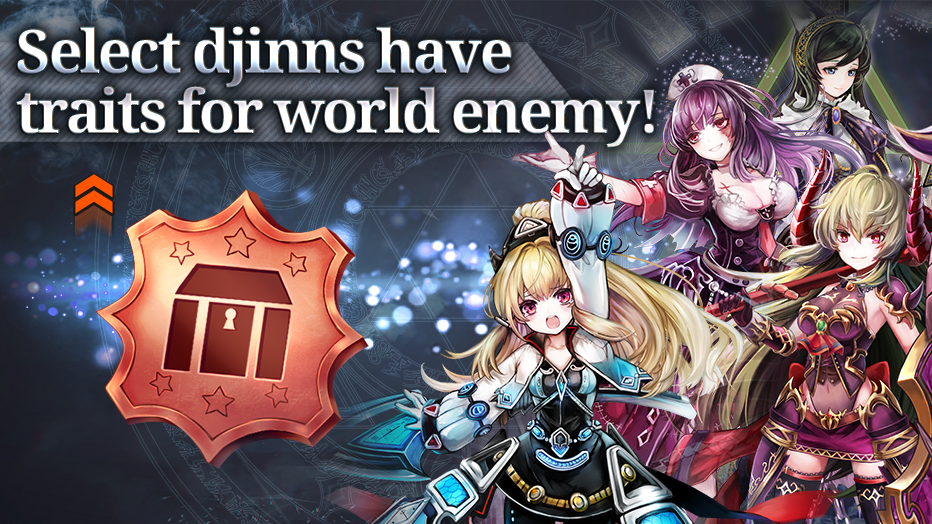 「Botis」「Astaroth」「Berith」「Peschelate」 will provide you additional individual Pt for the duration of the first WE.
 Using djinn with special traits will allow you to accumulate points at a faster speed. ※「Accumulated Pt」 and 「Max Damage Pt」 will not be effected by traits.

■Special Reward Item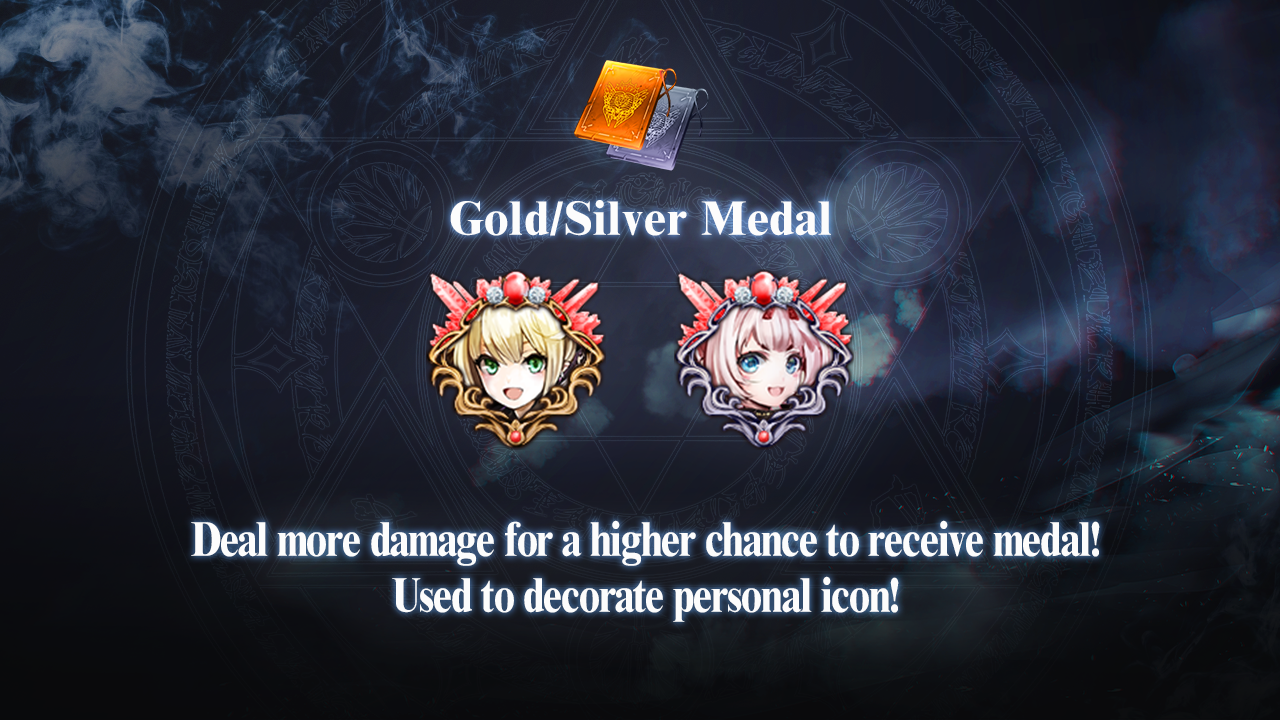 ・After the event ends, players will be rewarded with WE chest based on their performance. Chests are separated into 3 tiers: Gold, silver, bronze.

Additional Information on World Enemy can be found here: https://goex.funmily.com/notice/?id=42267


■Trait Pickup Summon!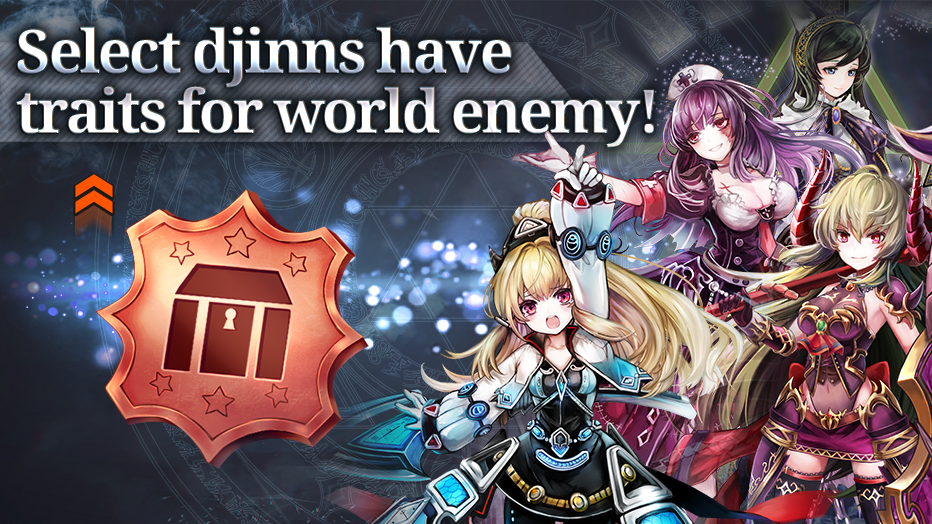 Available:2020/29/04 ~ 2021/05/05 23:59
Djinns with WE traits:「Botis」「Astaroth」「Berith」「Peschelate」 are on rateup!
 ※Summon rates are rounded and may not exactly add up to 100%, please consult「Rate Overview」 for specific rates.
 Furthermore, doing 「Diamond Summon」10 times will reward you with 「1 Special Summon Offering」+「1 High Rank Equipment Transmutation Stone」


■New SR Djinn Peschelate!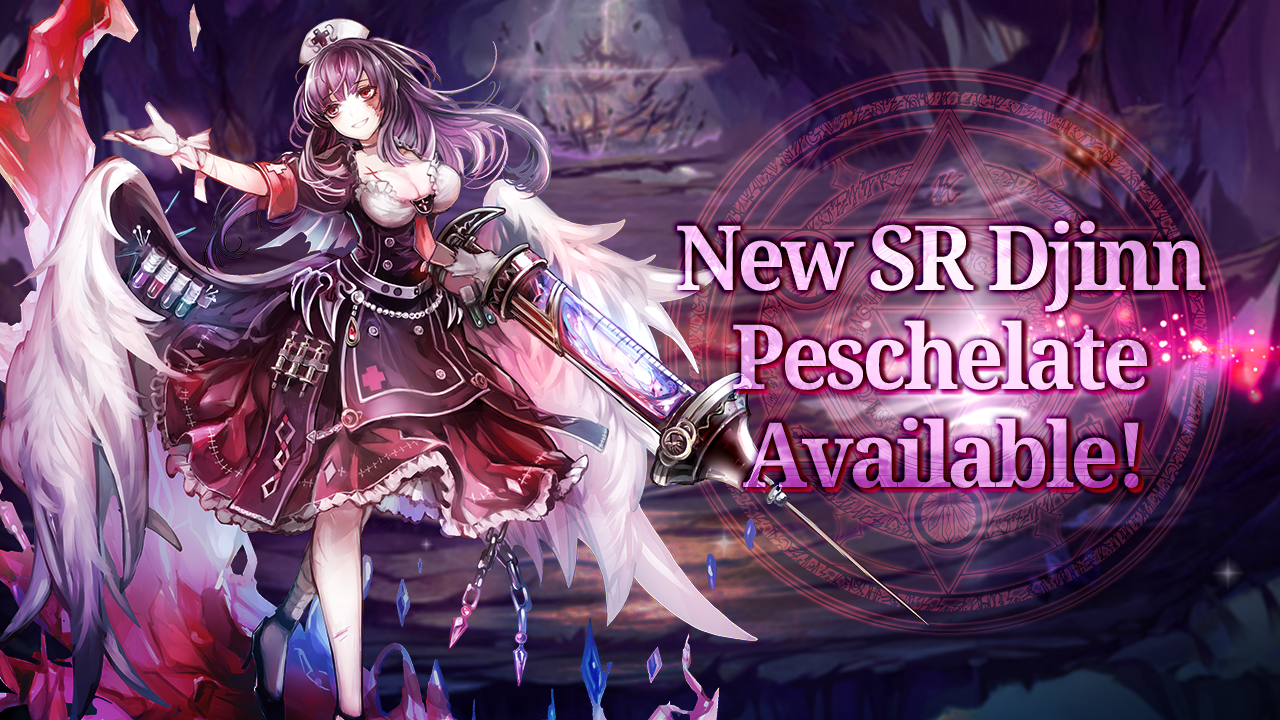 [Peschelate Rate UP]
Available:2020/29/04 ~ 2021/05/05 23:59
Peschelate has a new skill Angel's Descent that can self heal. With its LB, it can cure most debuffs from allies
Trait Available:2020/29/04 ~ 2021/05/05 23:59

 ※「Peschelate」 will be added to 「Diamond Summon」,「Paid Diamond Summon」 and will be available even after event ends!
 ※Summon rates are rounded and may not exactly add up to 100%, please consult「Rate Overview」 for specific rates.
 ※Peschelate is expected to be added into 「Normal Offering」 pool.
 Furthermore, doing 「Diamond Summon」10 times will reward you with 「1 Special Summon Offering」+「1 High Rank Equipment Transmutation Stone」


■Paid Guarantee SR Djinn Summon!



Available:2020/29/04 ~ 2021/05/05 23:59

Guaranteed SR Djinn in 10 rolls!

※Can only be done with paid diamonds
※Limited to 3 times
※「1 Special Summon Offering」+「1 High Rank Equipment Transmutation Stone」 will be given as gift
※Summon rates are rounded and may not exactly add up to 100%, please consult「Rate Overview」 for specific rates.



■「Paid Diamond Trasmutation」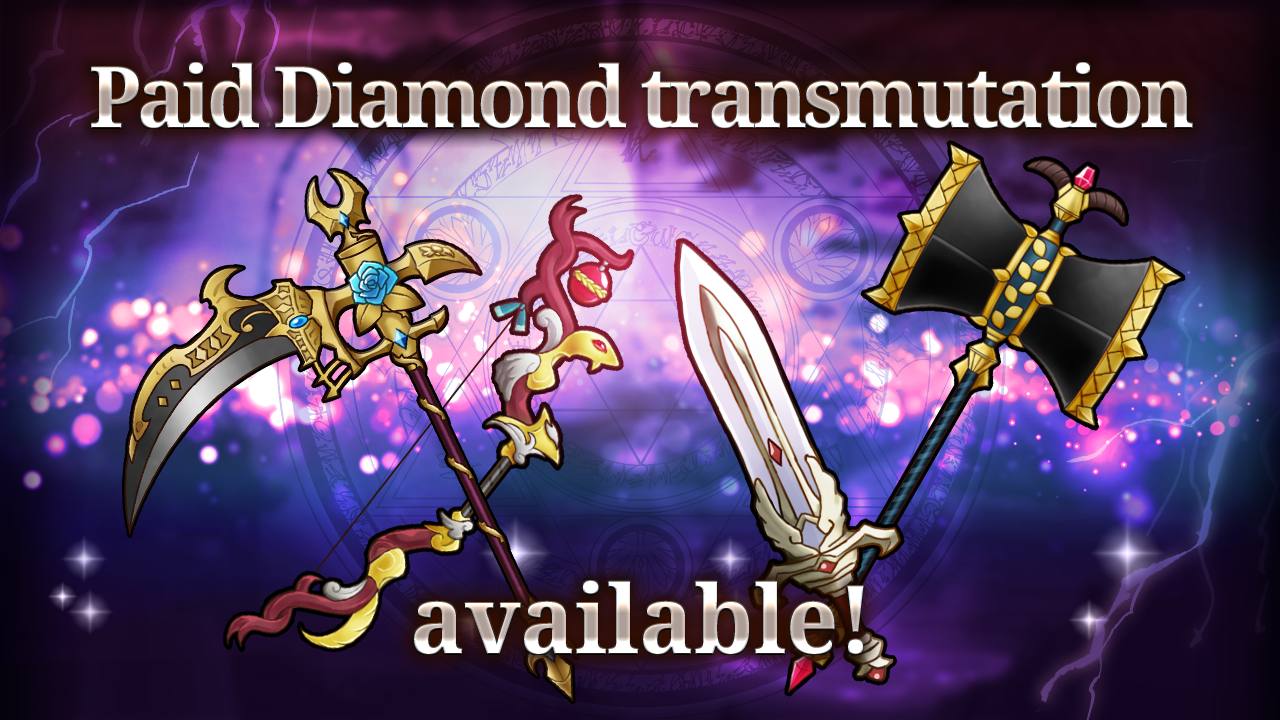 Available:2020/29/04 ~ 2021/05/05 23:59
※Only paid diamonds can be used.
※A maximum of 5 10 rolls can be done.
※A random 1-3 star All Purpose Skill book and a Special Summon Offering will be rewarded every 10 rolls.
※Please consult rate overview in game.


■「Tower of Elements」 Available!




 [Tower of Elements Easy]
  Available:2020/29/04 ~ 2021/05/05 23:59
 [Tower of Elements Normal]
  Available:2020/01/05 ~ 2021/05/05 23:59
 [Tower of Elements Hard]
  Available:2020/03/54 ~ 2021/05/05 23:59


 「Element Chest」 is obtained from monsters in the tower
 「Water Skill Book」 can be obtained in the tower。
 Defeating the 「Flame golem」 will reward you with a Water Skill Book.
 There are 3 difficulties, Easy, Normal, Hard.


■Time Limited Missions!



Available:2020/29/04 ~ 2021/05/05 23:59

Missions added in duration of event.
Can be found in Home >Mission>Events.



・「Weekend Drop Bonus」 Available!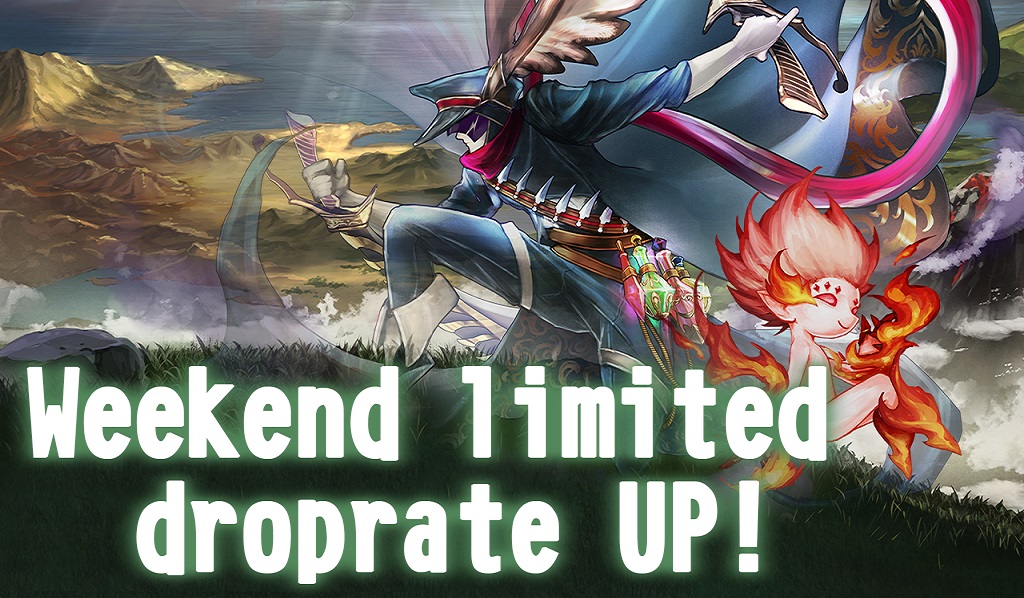 ・「Select Phantoms and Phantom Beats drop rate x1.5 on Saturday」!
Missions marked with 「DropUp!」 will have increased drops!
※Does not apply to missions without 「DropUp!」marker
※2021/01/05 00:00 23:59

・「Select Free Quest x1.5 Drop」!
Missions marked with 「DropUp!」 will have increased drops!
※Does not apply to missions without 「DropUp!」marker
※2021/02/05 00:00 23:59


■Sale


・Skill Books Value Pack
・Skill Transmutation Stone 3 Pack
・Skill Transmutation Stone 5 Pack
・Sakura 7 Skill PU Pack