・GoetiaFest Summon!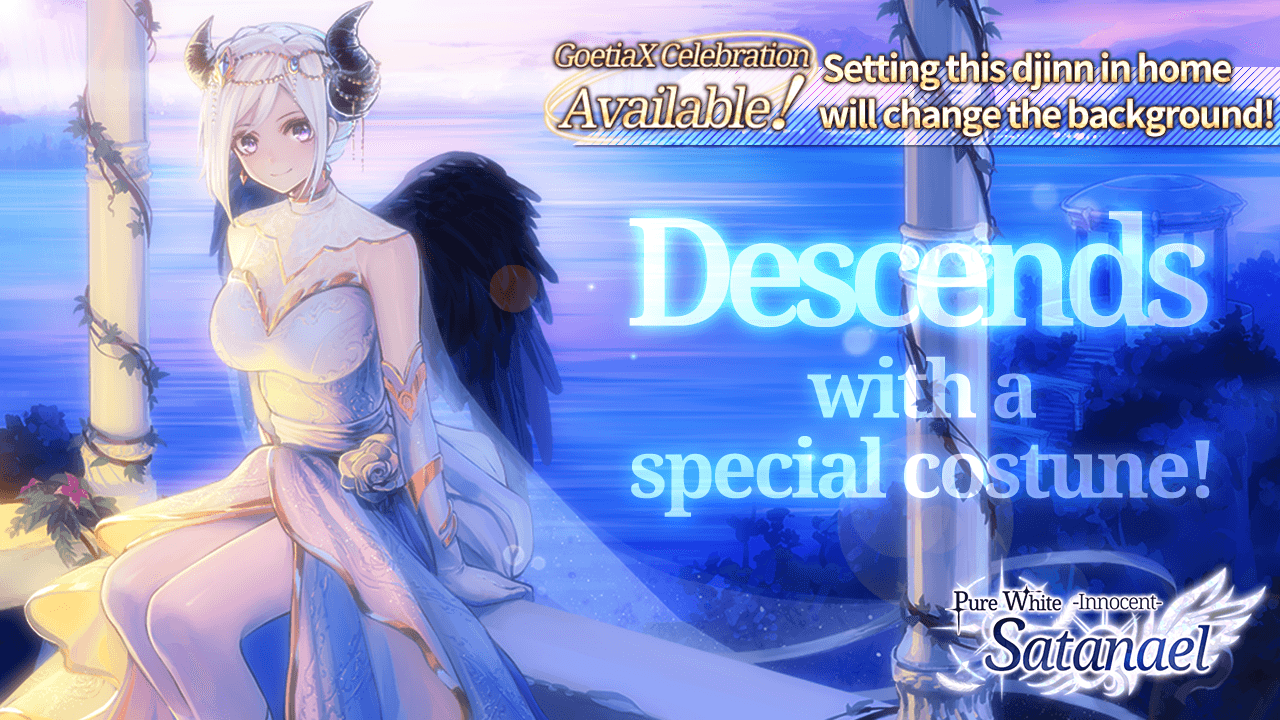 Available:2021/17/06 ~ 2021/01/07 00:00


GoetiaX Global has been available for half a year now. Goetia Fest summon will be available!

Pure White Satanael is a SR djin available during this time along with other SR Ancient Djinns.

※Ancient Djinns cost more than normal SR Djinns but are stronger than others.
※More ancient djinns will be added in the future.

GoetiaFest SR 3.5%!
SR Djinns will have 2x Intimacy Shards during this time.

New Djinn Pure White Satanael has a skill Wildslash, doing 3 hits of single target physical damage and increases self physical attack by 30% for 13 seconds. This effect duration is increased for 13 seconds. This effect duration is increased by 13 seconds upon chain rate.
※Chain slash is a new attack increasing buff. Onslaught, Barbaric Blessing.

Barbaric Blessing is a single target skill that does 3 hits of physical damage. It also increases ATK for 25% within a certain time.
Barbaric Blessing LB "Blessed Holy Sword " does all target 7-hit physical damage.


Pure White Satanael also has trait effects.

Trait Available :2021/17/06 ~ 2021/24/06 00:00


Pure White Satanael will also change the background of home page!

※「Pure White Satanael」 is a middle guard
※Rates are rounded and may not add up to 100%
※Details can be found in Rate Overview
※「GoetiaFest」Summon contains special djinn that can change based on event
※Doing 10 rolls will receive a High Rank Transmutation Stone and Special Summon Offering, and event item Proof of Trust 100.
※Djinns detail show highest attribute not including limit break.
※Djinn can be tested in trial battle.

・Paid Step Up Summon!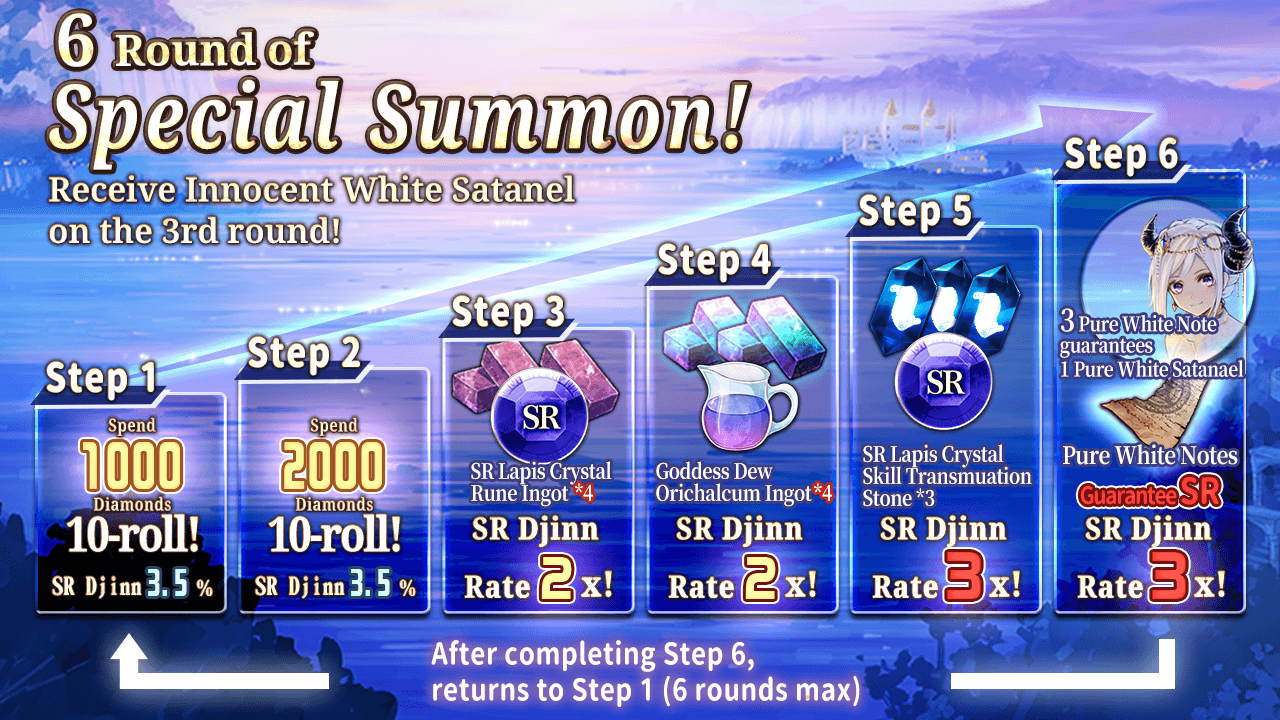 【Available】2021/17/06 ~ 2021/01/07 00:00

「Paid Step Summon」has tiers 1~6 that increases rewards based on tiers.
SR Chances are increased as well and extra rewards are given per step.


※Details can be found in Rate Overview
※Doing 10 rolls will receive a High Rank Transmutation Stone and Special Summon Offering, and event item Proof of Trust 100.
Details can be found in: https://goex.funmily.com/notice/?id=42303


■Weapon Specialty Summon



Available:2021/17/06 ~ 2021/24/06 00:00

SR Djinn Intimacy 2x!
 Limited time banner that allows you to choose what kind of djinns you want.
 ※Vanguard SR Pickup only contains Vanguard SR.
 ※Rearguard SR Pickup only contains Rearguard SR.
 ※Physical Attack SR Pickup only contain djinns that use: Scythe, Hammer, Fist, Bow, Greatsword, Dualsword.
 ※Magic Attack SR Pickup only contains djinns that use: Grimoire and Orbs.
 ※All current N/R djinns are included in the summon pool.
 ※SRμ Djinns are not included.
 ※Please consult「Rate Overview」 in-game.
 ※After doing a 10-roll summon, you will receive a High Rank Equipment Transmutation Stone and a Special Summon Offering.


・Azazel Part 3 First Half Available!
Azazel Part 3 first half available!
 New maras and phantom beast also added.
※Up to chapter 4
※Part 3 Samael and Satanael story must be done first.
※Later part will be added in the future.


・Login Reward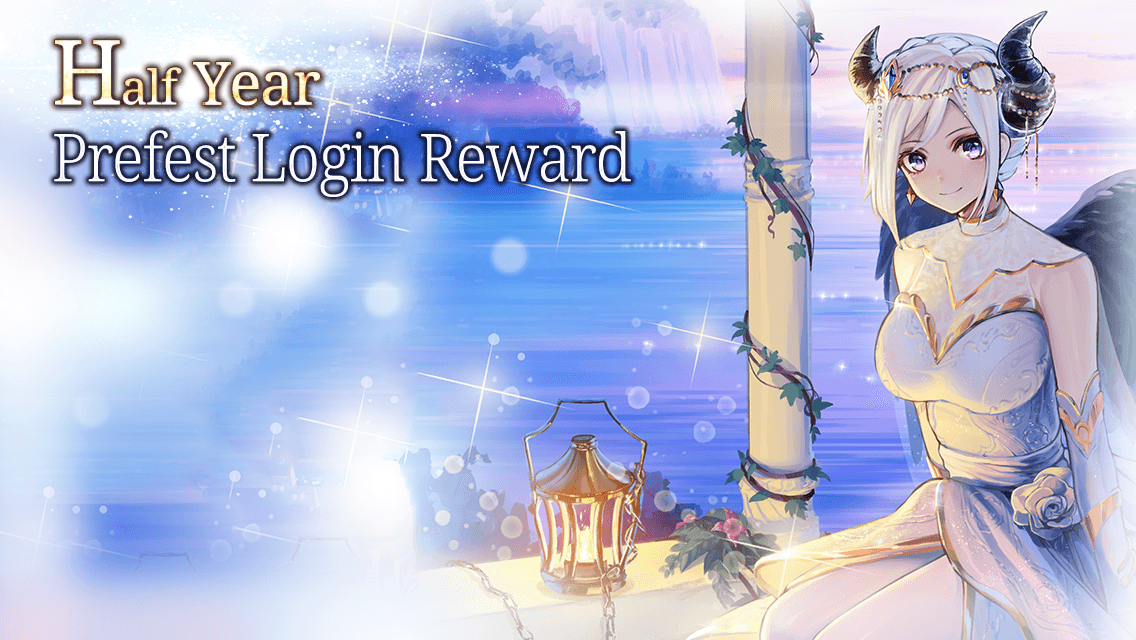 2021/17/06 ~ 2021/01/07 00:00
・Last Gift for his Love!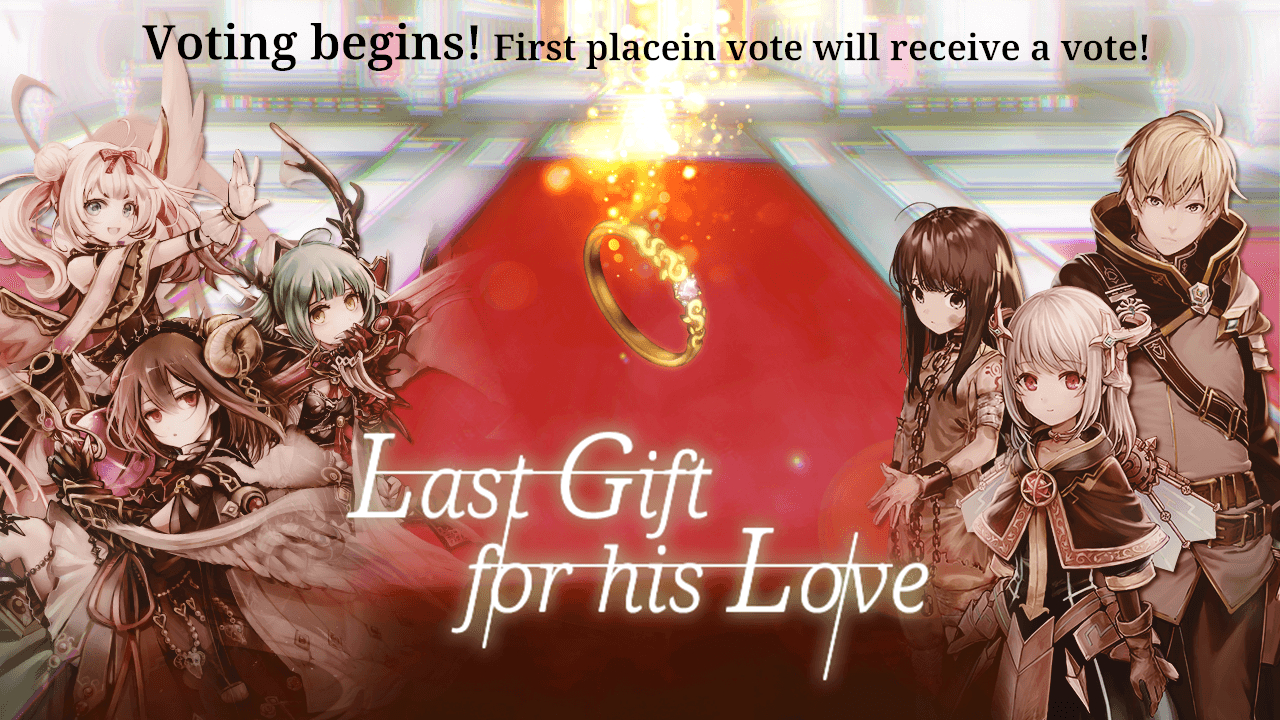 【Available】2021/17/06 ~ 2021/01/07 00:00

・Otherworld Gate is available for event.
・Thorn Apple Fairy can be found in event. Defeating thorn apple fairy will reward players with proof of trust that can be used to trade for event materials.


On home page, there is a Gift page on the top left side of page. There you can give various characters proof of trust and they will have different lines and give you gifts.

Voting guide is available here: https://goex.funmily.com/notice/?id=42304

Using Ocean Charm will increase proof of trust drop rate.
※Using Celebration Charm will have trait in raid!
※Only 1 unit needs to have the equipment to gain trait buff.
※Using Otherworld Orb (Pure) is needed to host raid, other participants need orb coins to join.
※NPC will not activate traits.
※Ocean Charm needs to be Lv8 to activate trait.
※Daily missions are not included into daily challenge.
※Daily mission is reset at 0400 every day.

Event enemies will have directory rewards.
※Only available during the duration of event.



■Treasure Vault Appears!



2021/17/06 ~ 2021/24/06 00:00


As you delve deeper into the Treasure Vault, you will find special flowers that can be used as gifts to the Goddesses!
Using Reset when you wish will reset the tower and consume 1 Treasure Vault AP, allowing to challenge the vault from the beginning.
 ※1-10 floors are available.
 ※Treasure Vault will not automatically reset.


Treasure Vault AP is needed to challenge Vault.
「Treasure Vault AP」 is received from limited events
Mission will require using AP (Chalice of Harmony does not count).
※3 AP can be received daily
※Treasure Vault AP disappears when Reset button is pressed. Pausing progress and leaving the vault will not consume AP.
※A Roulette will determine clear conditions.
※Treasure Vault AP cannot be accumulated for next event.


■Half Anniversary Prefest Sale


・Half Anniversary Prefest SR Select Pack

・Half Anniversary Prefest SRμ7PU Pack
※Includes a SRμ djinn 7PU Offering

・Half Annniversary Prefest Toaster Pack
※Includes Golden Toaster
Recommended for mage who lack AP

・Half Annniversary Prefest Skill 7PU Pack
※Includes a Skill 7PU Transmutation Stone